Meet VCU Authors
The Makings and Unmakings of Americans: Indians and Immigrants in American Culture
January 29, 2024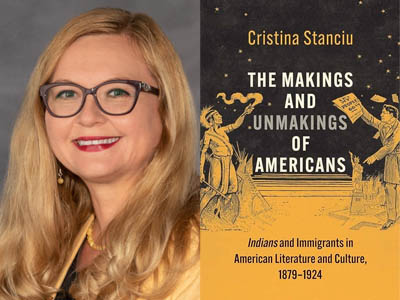 Meet VCU Authors: Cristina Stanciu, PhD
Start time: 12:00 p.m.
End time: 1:00 p.m
Location: Virtual
Registration will be available soon.
In this cultural history of Americanization during the Progressive Era, Cristina Stanciu argues that new immigrants and Native Americans shaped the intellectual and cultural debates over inclusion and exclusion, challenging ideas of national belonging, citizenship, and literary and cultural production. Deeply grounded in a wide-ranging archive of Indigenous and new immigrant writing and visual culture—including congressional acts, testimonies, news reports, cartoons, poetry, fiction, and silent film—this book brings together voices of Native and immigrant America.

Stanciu shows that, although Native Americans and new immigrants faced different legal and cultural obstacles to citizenship, the challenges they faced and their resistance to assimilation and Americanization often ran along parallel paths. Both struggled against idealized models of American citizenship that dominated public spaces. Both participated in government-sponsored Americanization efforts and worked to gain agency and sovereignty while negotiating naturalization.

Rethinking popular understandings of Americanization, Stanciu argues that the new immigrants and Native Americans at the heart of this book expanded the narrow definitions of American identity.
---