Mariam Alkazemi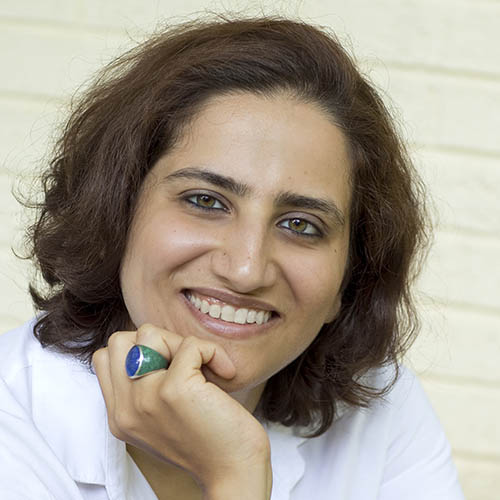 Dr. Mariam Alkazemi, Associate Professor in the Robertson School of Media and Culture
Written by Dr. Scott Sherman, Associate Professor and Interim Associate Director, the Robertson School of Media and Culture
Many people get mental health advice from social media influencers. This is especially true of younger adults like our students. Are they getting sound medical advice? Are they getting innocent misinformation? Or, are they getting propaganda designed to manipulate them?
These are all questions at the heart of Dr. Mariam Alkazemi, an Associate Professor in the Robertson School of Media and Culture. Her current research interests explore the role of communication in improving healthcare.
After spending just a little time with Mariam, it's easy to see that she is curious. She asks questions. Lots of them. Her scholarship has always looked for solutions to real problems — with a connection to communications:
"My first book was a gift to the communication students at my last university in Kuwait." She explained that communication laws in Kuwait are confusing. For that reason, international faculty often did not refer to Kuwaiti regulations. Her first book, Media Law in Kuwait explores freedom of expression, media legislation, and regulation of communications. It presents the topics that practitioners need to know while offering a comprehensive overview of the topics.
The initial idea for her second book started while Mariam and her co-author, both of Arab descent, were complaining about what they were reading about Arab people, life, and communities. Nothing reflected what they experienced firsthand through family, community, travel and research. "It became apparent that we had both heard of Arab communities across Latin America…in the Middle East and in the United States. We knew there were differences, and we knew that these differences were hard to navigate from an individual perspective," she said. The book expands on the understanding of the differences, and it inspires a nuanced approach to the study of the dispersion of Arab people from their original homeland.
So, who are the top ten mental health influencers you should follow right now? Google it; you'll find many lists. We know that people look up to influencers to guide them with mental health, but what else is there to know about them?
Mariam has a strong scholarship record. She won the 2020 Presidential Faculty Award for Community Multicultural Enrichment (PACME). She was a research fellow at the London School of Economics' Middle East Centre and a Carnegie Fellow at the University of North Carolina-Chapel Hill. She has published research articles on public health on Instagram and articles on advertising of pharmaceuticals.
When you need mental health advice, Mariam suggests working with a licensed professional. As for the top ten mental health influencers you should follow, stay tuned for Mariam's forthcoming work!
Select Publications
Mariam F. Alkazemi, Jeanine P. D. Guidry, Ezaddeen Almutairi & Marcus Messner (2022) #Arabhealth on Instagram: Examining Public Health Messages to Arabian Gulf State Audiences, Health Communication, 37:1, 39-47, DOI: 10.1080/10410236.2020.1816283
Mariam F. Alkazemi (2022) "Inside the diverse Arab community of New Jersey", Middle East Eye, 16 June 2022. https://www.middleeasteye.net/discover/us-new-jersey-melting-pot-arab-culture-inside
Brian J. Bowe, Derek Moscato & Mariam F. Alkazemi (2021) An appeal to shared values: framing and moral persuasion in the Council on American-Islamic Relations' press releases, Journal of Public Relations Research, 33:1, 39-57, DOI: 10.1080/1062726X.2021.1944156
Alkazemi, M.F., Bayramzadeh, S., Alkhubaizi, N.B. and Alayoub, A. (2020), "The physical environment and patient satisfaction ratings on social media: an exploratory study", Facilities, Vol. 38 No. 1/2, pp. 86-97. https://doi.org/10.1108/F-11-2018-0138
Roman, N., Alkazemi, M. F., & Stewart, M. C. (2020). Tweeting about terror: A World Systems Theory approach to comparing international newspaper coverage online. International Communication Gazette, 82(6), 507–525. https://doi.org/10.1177/1748048519825993
Mariam F. Alkazemi, Stephanie K Van Stee, Electronic direct-to-consumer advertising of pharmaceuticals: an assessment of textual and visual content of websites, Health Education Research, Volume 35, Issue 2, April 2020, Pages 134–151, https://doi.org/10.1093/her/cyaa004