Jesse Goldstein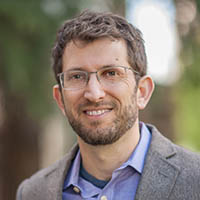 Dr. Jesse Goldstein, Associate Professor of Sociology, Assistant Director of the Humanities Research Department
Written and photographed by Victor Chen, Department of Sociology
It's my honor to introduce Jesse Goldstein, the new associate director of the Humanities Research Center. Perhaps you're wondering why Jesse, an associate professor of sociology at VCU since 2014, is serving as the associate director of the Humanities Research Center. This recognition speaks to the admirable versatility of Jesse as a scholar (as well as HRC's inclusiveness as a center). Not only is Jesse a top-notch sociologist, but he is also one of those rare intellects who can move adeptly and effortlessly across disciplines, connecting with and finding value in the work of literary scholars, historians, geographers, anthropologists and other critically-minded researchers with none of the theoretical or methodological arrogance that too often characterizes these interactions.

You can see that expansive and eclectic perspective in his first book, "Planetary Improvement: Cleantech Entrepreneurship and the Contradictions of Green Capitalism" (MIT Press, 2018), which has sparked a significant dialogue across disciplines and has led to talks and book panels at institutions ranging from the CUNY Graduate Center to the London School of Economics and the Rhode Island School of Design. With me, he is currently completing a book, "Failing Forward: Learning to Innovate in the Entrepreneurial University," to be published by the University of California Press, as well as a related article forthcoming in the top sociology journal Social Problems. This work adds to his prolific body of publications in journals spanning a broad range of fields. He brings the same ecumenical outlook to his teaching, where he inspires colleagues with his innovative approach. One semester, he co-taught a cross-listed physics and sociology course on the "Impact of Materials on Society" with VCU associate professor Dexian Ye, and more recently, he has co-developed a general education course titled "Confronting Climate Crisis" with Dr. Kai Bosworth in the School of World Studies. In 2019, he received the VCU College of Humanities and Sciences Distinguished Mentoring Award.
Jesse grew up near Philadelphia and received his Bachelor's degree in modern culture and media from Brown University, a Master's degree in Politics from York University in Toronto and a Ph.D. in sociology from City University of New York. Throughout his career, Jesse has managed to put into vivid practice his talents as both an artist and activist—from working as a member of a Philadelphia-based artist collective and publishing activist broadsheets such as the Rare Earth Catalog, to serving in leadership roles with academic labor organizations, such as the newly-formed chapter of the United Campus Workers at VCU.
Please join me in welcoming Jesse to this new role.
Select Publications