Grace Gipson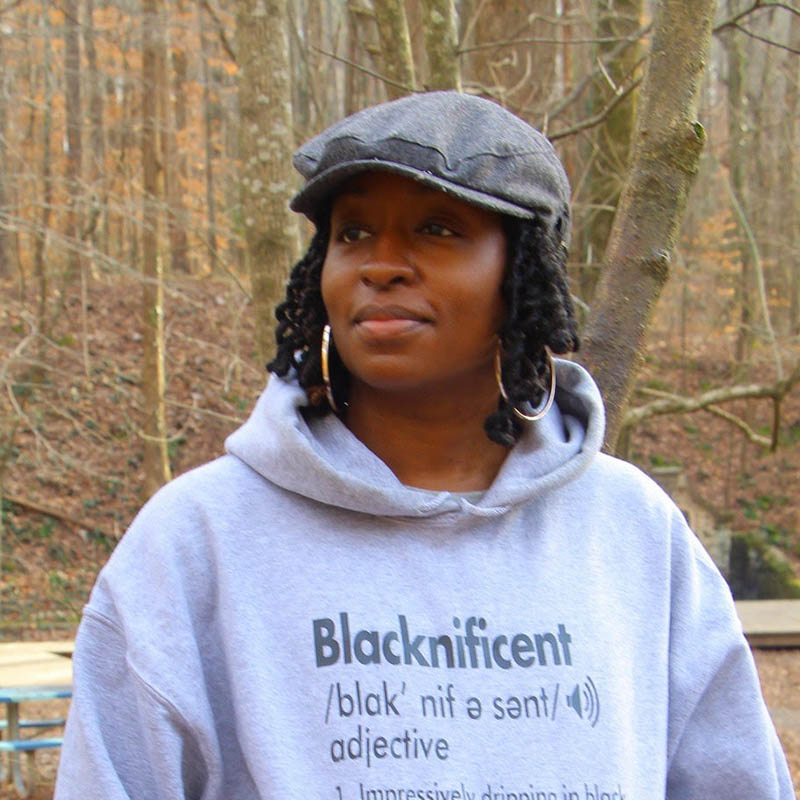 Dr. Grace D. Gipson, Assistant Professor, African American Studies
Written by Dr. Mignonne C. Guy, Associate Professor and Chair, African American Studies
Dr. Grace Gipson's career as a rising pop culture scholar began during her undergraduate journey while attending Clark Atlanta University (CAU) in Atlanta, GA. She followed her passion for examining representations of race and gender in pop culture and comic books, and pursued her graduate studies at Georgia State University (MA in African American Studies) and the University of California Berkeley (Ph.D. in African American Studies, with an emphasis in new media). Her graduate work served as the foundation for her current research interests, which center around Black pop culture, digital humanities, the intersections of race and gender in comic books and gaming, Afrofuturism, and race and new media. This research also informs Dr. Gipson's innovative teaching, such as recent special topics courses on "Blackness in Popular Culture" and "Humanizing the Black Female Voice in Television" that examine the African American experience from the lens of television and pop culture.
As a pop culture scholar and Black future feminist, Dr. Gipson works on race and gender in comics, pedagogical practices using comics, music, and Afrofuturism. She has published her scholarship in journals and media outlets such as Black Perspectives, The Huffington Post, NPR, the Chicago Humanities Festival, The Middle Spaces, Quality Comix, and several edited collections. In summer 2021, Grace was awarded a fellowship from the University of Chicago to conduct research on the history and growing legacy of Chicago's Black women comic book writers and artists with the Black Metropolis Research Consortium (BMRC). In the summer of 2021, she was also awarded a grant from the Council of Library and Information Resources (CLIR) with the Museum of Pop Culture (Seattle, Washington) to consult on the building of the museums Hip-Hop collection. In fall 2021, Dr. Gipson received a grant from the National College Board to develop a high school Advancement Placement course in African American Studies. Additionally, in fall 2021 she was awarded a summer opportunity grant at Ghent University (Belgium) to explore the global artistic production and digital public engagement of digital and web comics.
Dr. Gipson's current book project, "Reclaiming Her Time: Exploring Black Female Experiences and Identities in Comics and Graphic Novels," explores the layered identities and experiences of various fictional Black female characters as personified in comic books and fandom culture, as well as their relationship to real life situations. Her work on Afrofuturism and new media, Black storytelling in television and film, and Blackness in gaming has been featured locally, nationally, and internationally through invited talks, lectures, and commentary essays through such outlets and organizations as the Richmond Times Dispatch, the Katie Geneva Cannon Center for Womanist Leadership and the Center for Social Justice and Reconciliation at Union Presbyterian Seminary (Richmond, VA), the Auburn Avenue Research Library on African American Culture and History (Atlanta, GA), the Schomburg Center for Research in Black Culture (Harlem, NY), the New Commons Project at the University of Maine at Farmington, the Coalition for Racial Equality and Rights (Scotland, UK), and CNN Entertainment.
Since joining VCU as an Assistant Professor in 2020, Dr. Gipson has immersed herself in professional development opportunities and service to the College and the department. She is a member of the 2021-2022 cohort of "Leaders for Inclusive Learning," and serves as the department representative on the Faculty Council in the College of Humanities and Sciences. In the department, Grace is the faculty lead and co-organizer for "Black History in the Making," an annual event that recognizes the contributions of Black students and staff across the campus. In fall 2021, Dr. Gipson was awarded funding from the CHS Office of the Dean for student engagement activities to develop new student programming, "Hot Topics in African American Studies." The "Hot Topics" series will include lectures and films that highlight the Black experience. The inaugural Hot Topic lecture, on April 14, 2022, will feature Dr. Kaniqua Robinson from the Department of Anthropology at Furman University, who will discuss the intersection of race, memory-making, Black childhood, and the U.S. criminal justice system. Dr. Gipson designed this series to highlight the breadth, depth and richness of scholarship in African American Studies.
In her almost two years at VCU, Dr. Gipson has also mentored and guided our African American Studies (AAS) majors in receiving a UROP Student Travel Grant as well as being accepted to present their research at the 2022 Network for Undergraduate Research in Virginia (NURVa) symposium and the 2022 Southwest Popular/American Culture Association conference. Dr. Gipson has also been of service to the VCU community as whole, contributing her expertise to the formation of the Race & Aesthetics module for the Committee on Racial Equity (CORE) and Critical Social Inquiry and Justice Studies (CSIJ) program. Dr. Gipson has also contributed talks such as "The Art of Storytelling: Black Imaginings of Politics and Pop Culture" to the 2022 Berglund Seminar Series in the VCU Honors College and "Are Cultural Images Fueling Our Bias?" as part of the 2021 Unlocking Health Equity series through the Office of the Senior Vice President for VCU Health Sciences. She also facilitated a workshop for the VCU Center for Teaching and Learning Excellence and Faculty Success (CTLE) as part of the 2021 Teaching Excellence Symposia.
Outside the classroom, Grace continues serve the discipline and the local Richmond Black community as the Secretary of the African American Intellectual History Society, collecting comic books and ticket stubs to the latest movies, co-hosting the video podcast Conversations with Beloved and Kindred sponsored by the Auburn Avenue Research Library on African American Culture and History, and contributing to her website blackfuturefeminist.com, and offering mentorship and career planning resources to local Richmond middle and high school students through her sorority, Delta Sigma Theta Sorority, Inc.
Select Publications
Gipson, G. D. (2019). Creating and Imagining Black Futures through Afrofuturism. In De Kosnik, A. & Feldman, K. (Eds.), #identity: Hashtagging Race, Gender, Sex, and Nation (pp. 84-103). Ann Arbor, MI: University of Michigan Press.

Gipson, G. D. (2018, Fall). "She Makes Comics" (2014) [Film Review]. Films for the Feminist Classroom, 8(1-2).

Gipson, G. D. (2018, Fall). "Wonder Woman! The True Story of American Superheroines" (2012) [Film Review]. Films for the Feminist Classroom, 8(1-2).

Gipson, G. D. (2018, August 3). Disability, Race, and Gender in Speculative Fiction – AAIHS/Black Perspectives [Academic Web Blog post.]

Gipson, G. D. (2017, November 20). The Life and Legacy of Gwendolyn Brooks – AAIHS/Black Perspectives [Academic Web Blog post.]

Gipson, G. D. (2016). Afro-Futurism's Musical Princess Janelle Monae: Psychadelic Soul Message Music Infused with a Sci-Fi Twist. In R. In Anderson & C. E. In Jones (Eds.), Afrofuturism 2.0: The Rise of Astro-Blackness, Vol. I (pp. 91-108). Lanham, MD: Lexington Books-Rowman & Littlefield.