Chioke I'Anson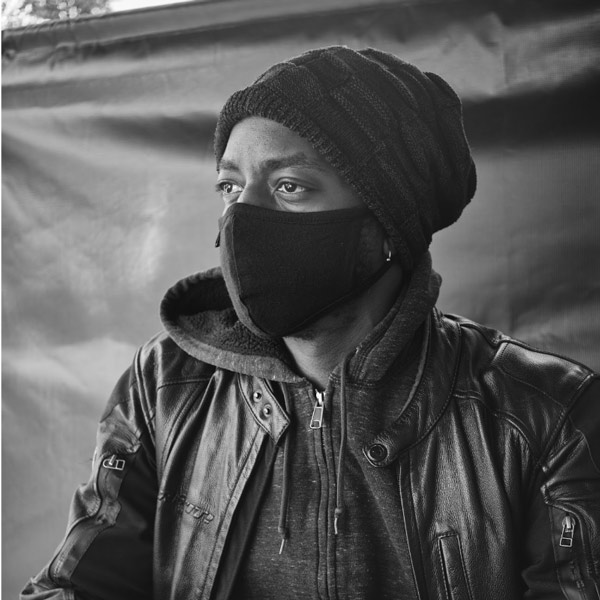 Dr. Chioke I'Anson, Assistant Professor of African American Studies and Director of VPM + ICA Community Media Center
Written by Dr. Mary Caton Lingold, Assistant Professor of English
"Every philosopher needs a day job." That is what Chioke I'Anson said to me when I asked him about the links between his expertise in philosophy and audio storytelling. His role as NPR radio announcer might seem an unusual day job for a professor of African American Studies specializing in philosophy, but if you spend some time in the brand new VPM + ICA Community Media Center he directs, Dr. I'Anson's pragmatic vision of contemporary storytelling sharpens into view. In fact, he warmly invites humanities faculty to do just that: to come see the space and get a sense of the ambitions and possibilities at the heart of the innovative center, housed on the second floor of the Institute for Contemporary Art.
When I stepped into the Media Center I was captivated by the inviting visual design and I'Anson's sense of possibility and purpose. The product of years of visioning and planning, the center establishes a home for members of the public and the VCU community interested in telling great stories. Podcasting is at the heart of the current programming, and a custom sound booth equipped with state-of-the-art technology takes pride of place. In the near future, the center's focus will expand to promote other kinds of media production, including visual and textual storytelling. All services at the Media Center are free.
The overarching mission of the center is to "nurture new voices" by creating accessibility to technology and training. While the project hopes to be of particular use to members of the Richmond community who are not necessarily affiliated with VCU, the center will also be a valuable resource for faculty and students interested in launching new media projects. For faculty hoping to, say, develop a podcast connected to their research, the Community Media Center will offer how-to videos and workshops with specialists to get them started.
We are living in a moment when many humanities scholars are striving to reach wider publics with their research. I'Anson insists that audio storytelling can be an excellent way to build skills in bridging the divides between the academy and the public. As he put it, "podcasting is a practice that can make you a more effective communicator." I'Anson's philosophy of podcasting ultimately imagines the form as an intellectual art that can achieve some of the boldest aims of humanistic inquiry. Yet high-mindedness does not characterize the culture of the Media Center, rather the programming trains toward practical insights into the nuts and bolts of making meaningful, engaging stories. From selecting software to honing story arcs, the work of media production is in the details, and I'Anson hopes to make that kind of expertise available to a broad community of Richmonders.
I'Anson has been involved in media production in lock-step with his academic journey, beginning with his years working in college radio. He is known not only for his work as an announcer on NPR, but also through his appearances on shows like Wait, Wait, Don't Tell Me, and on podcasts like Love + Radio. A delightful episode, Grain of Sand, from the Everything is Alive showcases Chioke's humor and philosophical bent particularly well. Chioke is also a much sought-after speaker. A talk on the production of knowledge for Creative Mornings exemplifies his engaging work with live audiences.
As an Africana philosopher who also studies and rides motorcycles, I'Anson's research, teaching, and media production fosters connections between and around diverse schools of thought. At VCU he developed an innovative course, Podcasting While Black, the subject of a recent VCU News piece. He teaches a range of courses in the African American Studies Department. (Check out this engaging course trailer showcasing one of his signature courses.)
Chioke I'Anson stands out as a model creative intellectual, whose work across media and subjects builds conversations with audiences in and beyond the academy. His work at the new VPM + ICA Media Center promises to enrich an even greater community of voices.
Select Publications
"Unapologetically Black: Hip Hop's Effect on Black Liberation" Public Panel. Virginia Commonwealth University, February 2016

"What Does the Racist See? A Hegelian Reflection on Antiracist Tactics." Phenomenology and the Political. Washington Rowman and Littlefield. Fall 2016

"A Critique of Humanitarian Reason: Agency, Power, Privilege" with Geoff Pfiefer. The Journal of Global Ethics, Issue 2-3, December 2012

"The Neglected Question of Race in International Humanitarian Discourse" Sophia Series on Political Philosophy in Atlanta, Morehouse College. November 2013

"NGOs, Development and the Problem of Accountability." Left Forum, Pace University. June 2013

"So You Want to Help? Conceptualizing and Reconceptualizing Humanitarian Aid and Development Work." Advancing Public Philosophy, Emory University. March 2013