Catherine Ingrassia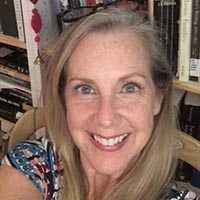 Catherine Ingrassia, Professor and Chair of the English Department
Written by Rivka Swenson, Associate Professor of English
Catherine Ingrassia, Professor of English, is an ideal spotlight figure for the inaugural newsletter of the HRC. As Chair of English, Dr. Ingrassia has enhanced and amplified the visibility, accessibility, and personality of the department with a multi-pronged approach, including: new strategic use of social media; intentional branding (t-shirts, can coolers, stickers, hand-pressed bookmarks, anyone?); improved student experience (social space, food pantry, and more); the development of sixteen new undergraduate courses, a minor in professional writing and editing, a 4+1 masters program, and a Distinguished Majors Program.

But wait, there's more: the larger elegant trifecta in research, teaching, and service that places Dr. Ingrassia at the heart of the humanities at VCU.

Within the College, in addition to previous service as Executive Associate Dean of Research and Graduate Affairs (and, before that, Associate Dean for Academic Affairs), Dr. Ingrassia was fundamental to the creation of the interdisciplinary Ph.D. in Media, Art, and Text (MATX) and to the Humanities Research Center itself. For these efforts and more, Dr. Ingrassia's CHS Distinguished Service Award has been well-earned. In the larger world, Dr. Ingrassia's field-shaping leadership responsibilities have ranged from serving as the Founding President of the International Eliza Haywood Society, to chairing the Modern Language Association's Executive Committee for Restoration and Early Eighteenth-Century English Literature, to acting in editorial and advisory capacities for prestigious journals in her field and subfield such as PMLA, Eighteenth-Century Studies, and Eighteenth-Century Novel.

Dr. Ingrassia's teaching career has been no less illustrious, meriting the highest pedagogy honor bestowed by the American Society for Eighteenth-Century Studies, the Innovative Course Design Competition Award. Happily, invigorating courses on tantalizing topics such as "The Persistence of Pride and Prejudice" and "Cultures of Captivity in the Long Eighteenth Century" have found their way to larger audiences thanks to related publications such as "Teaching Beyond the Heteronormative: Fantomina and Queering Eliza Haywood," "Adaptation and the 'invisible world' of Jane Austen," and "Gendered Dialogues in Satire."

At the same time, Dr. Ingrassia's exemplary research profile serves to inspire her colleagues in English as she leads by example, with dozens of well-placed articles and essays in prominent journals and essay collections. Excitingly, too, her widely-consulted teaching edition of Eliza Haywood's Anti-Pamela (the only modern edition of this vital work by one of the two most popular novelists of the early eighteenth century) will soon be followed by a teaching edition of Laetitia Pilkington's Memoirs. This is lucky for Pilkington; the wide circulation of Dr. Ingrassia's earlier edition on Haywood has contributed to securing Haywood's tremendous legacy in the classroom and the larger scholarly arena. Similarly, the edition of Pilkington will be the first modern teachable edition of a figure who deserves ample recognition as, in Dr. Ingrassia's words, "one of the most vivid chroniclers of the mid-eighteenth-century London literary marketplace."

Meanwhile, Dr. Ingrassia's crucial work as an editor of influential essay collections (British Women Poets of the Long Eighteenth Century, Companion to the Eighteenth-Century Novel and Culture, and Cambridge Companion to Women's Writing in Britain, 1660-1789) is well-matched by the important monographs (both extant and forthcoming) that help to make her one of the most respected scholars in her subfield (a status also easily attested to by numerous accolades and prizes). Dr. Ingrassia's first book, Authorship, Commerce, and Gender in Early Eighteenth-Century England: A Culture of Paper Credit (Cambridge University Press) set the stage for the promising career that has unfolded and is still unfolding. Now, the promise of two new books — both of which carry forward Dr. Ingrassia's established commitment to archival research, historicized contextual scrutiny, and feminist methodologies — is brilliantly aglow on the horizon: Domestic Captivity and the Eighteenth-Century Subject, 1660-1750 (forthcoming from University of Virginia Press) and Life/Writing: Failure and the Woman Writer in Early Eighteenth-Century England (under advance contract with University of Delaware Press).

In addition to all of the above, Dr. Ingrassia is an invaluable colleague: within her department, the College, the University, and within the field where she is sought-after as plenary and keynote speaker and collaborator and mentor and friend who is as professional as she is sociable, as generous as she is rigorous. It is fair to say she is not only at the heart of the humanities at VCU and at large, but she is also a big part of the pulse that moves the blood. Thank you, Dr. Ingrassia! Here's to a bright 2021. May your spotlight lead the way.
Select Publications
Authorship, Commerce, and Gender in Early Eighteenth-Century England: A Culture of Paper Credit. Cambridge: Cambridge UP, 1998.

Editor, Cambridge Companion to Women's Writing in Britain, 1660–1789. Cambridge UP, 2015.

"Emma, Slavery, and Cultures of Captivity," Persuasions 38 (2017), 95–106.

"Laetitia Pilkington, Elizabeth Thomas, and the Currency of the Book," Women's Writing 23.3 (2016): 1–13.

"Poems on the Sexes." The Oxford Handbook of British Poetry, 1660–1800,

Ed. Jack Lynch (Oxford University Press, 2016), 356–70.

"Women Writing About War," Cambridge Companion to Women Writers of the Romantic Era, ed. by Devoney Looser (Cambridge University Press, 2015), 101–114.

"Contesting 'Home' in Eighteenth-Century Women's Verse," Home and Nation in British Literature from the English to the French Revolutions ed. by A. D. Cousins (Cambridge University Press, 2015), 154–168.

"'Queering' Eliza Haywood," The Journal for Early Modern Cultural Studies 14.4 (2014): 9–24. Winner of the Percy G. Adams Prize of the Southeastern American Society for 18th-century Studies for the best article on an 18th-century subject in 2014–15.

"Aphra Behn and the Profession of Writing in the Restoration and Early Eighteenth-Century," A Companion to British Literature, The Long Eighteenth Century, 1660–1830, ed. Robert De Maria (Oxford: Wiley Blackwell, 2014): 49–61.