Andrew Murphy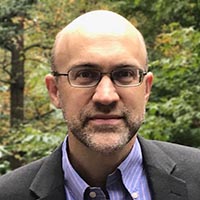 Dr. Andrew Murphy, Professor of Political Science
Written by Jason Arnold, Chair of the Department of Political Science
When Andrew Murphy joined our faculty in August 2019, I knew my department had the great fortune of gaining one of the world's leading theorists of religious liberty, political tolerance and liberty of conscience. That Andy exemplifies the liberal virtues he studies, with an apparently inexhaustible supply of toleration, inclusivity and fair-mindedness, became immediately clear to his colleagues and students, all of whom would also recognize his generosity of spirit. Political science hit the jackpot by acquiring an esteemed scholar and beloved teacher who happens to be a wonderful colleague.
Before moving to VCU, Andy published ten books and dozens of articles while holding positions at Rutgers, Valparaiso, the University of Richmond and the University of Chicago. In recent years, his focus has remained fixed on William Penn's life and thought, leading to four books and a reputation as "the world's greatest authority on William Penn" (American Historical Review). His current work on political martyrdom signals an exciting new direction rooted in his long-standing interest in liberty of conscience and firm insistence about the interconnectedness of religion and politics. Earlier books probed those and related themes, including "Conscience and Community: Revisiting Toleration and Religious Dissent in Early Modern England and America," "Prodigal Nation: Moral Decline and Divine Punishment from New England to 9/11" and "Political Religion and Religious Politics: Navigating Identities in the United States."
Andy has won many honors and awards, including an Overseas Fellowship at the University of Cambridge's Churchill College, a visiting fellowship at the University of Oxford's Rothermere American Institute, a fellowship from the National Endowment for the Humanities, and an Andrew W. Mellon Foundation fellowship. Early in his academic career, he won a top dissertation award, the American Political Science Association's (APSA) Aaron Wildavsky Award, from the religion and politics section.
Select Publications
William Penn: A Life (Oxford, 2019)

"The Past and Present (and Future?) Politics of Religious Liberty." The Forum 17 (2019): 45-67.

The Worlds of William Penn. Co-edited with John Smolenski (Rutgers University Press, 2019)

Liberty, Conscience, and Toleration: The Political Thought of William Penn (Oxford, 2016)

Political Religion and Religious Politics: Navigating Identities in the United States (with David S. Gutterman, Routledge, 2015)