Andrew Crislip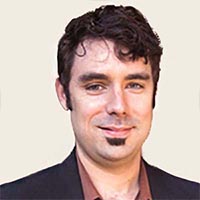 Dr. Andrew Crislip, Blake Chair in the History of Christianity, Department of History
Written by Dr. Ryan Smith, Professor of History
A great number of people care about the origins of Christianity. Yet there is only a tiny fraction in the world who can parse the original scripts on which that religious tradition rests. Andrew Crislip, the Blake Chair in the History of Christianity in the VCU Department of History, is one of those experts.
Andrew got his start reading ancient Egyptian papyri as an undergraduate at the University of Mary Washington, and he went on to earn his Ph.D. in Religious Studies at Yale University. His particular specialties include Coptic Christianity, monasticism, health and healing traditions, and the history of emotions. These interests are reflected in the titles and range of his books, which include From Monastery to Hospital: Christian Monasticism and the Transformation of Health Care in Late Antiquity (2005), Thorns in the Flesh: Illness and Sanctity in Late Ancient Christianity (2012), and Selected Discourses of Shenoute the Great: Community, Theology, and Social Conflict in Late Antique Egypt (co-edited and translated with David Braake, 2015). While he was at work on a related transcription project, I happened upon him one day in the VCU History Department in a conversation with scholars from around the world (before the pandemic), making plans for puzzling together the jigsaw-like scraps of such surviving fourth-century discourses. It was fascinating to see. Andrew is now coediting a new book series for Routledge on "Religion, Medicine, and Health in Late Antiquity," and he recently won a Fulbright Award for a year of study at the University of Helsinki in Finland, where he made progress on a new book project tentatively titled "Emotion and Early Christian Identity." His other publications have appeared in journals such as Journal of the Bible and Its Reception and Journal of Early Christianity, and in Yale Papyri in the Beinecke Rare Book and Manuscript Library IV.
Since joining VCU as the inaugural Blake Chair (endowed by emeritus faculty member William Blake and his wife Miriam Blake) in 2008, Andrew has invigorated new connections among students and the community. Among the History Department's most popular and well-attended public series is the annual Blake Lecture in the History of Christianity, which Andrew directs. Recent speakers have covered subjects as wide ranging as medieval ghosts, Mormonism, and Russian iconography. This year's lecture will be held on April 7, with Dr. Sylvester Johnson offering a talk on robots, race, religion, and the digital future of humanity. These lectures have proven to be wonderful opportunities for alumni, faculty, and current students to meet and learn together. Similarly, Andrew's teaching has covered a wide range of timely subjects, from his popular global History of Christianity sequence to more specialized offerings on the New Testament, monasticism, the Reformation, healing in antiquity, and illness narratives.
You might also see Andrew around town these days behind the kit of a drum set. A longtime musician, he is now drumming for an alt-country band, Woody Woodworth & the Piners. The group has played the Bristol Rhythm and Roots Reunion, Kentucky Public Radio's Red Barn Radio, as well as venues closer to home such as The Camel.
Very few faculty can command the range of expertise Andrew brings to VCU. He is a global scholar with an eye for community engagement, and he has been a good friend to the Humanities Research Center, having served on its advisory board for several years and participated regularly in its programs. If you are curious about the emotions of Adam and Eve (at least as attributed to them by ancient Jewish and Christian thinkers), the origins of hospitals, or how scraps of ancient papyrus still inform our modern world, seek him out.
Select Publications
"Pain, Emotion, and Identity in Early Christianity." Journal of Early Christian History (2021).
"The Ascetic Construction and Performance of Emotions: Lypē and Akēdia in the Works of Evagrios of Pontos." In Managing Emotion: Passions, Affects, and Imaginings in Byzantium, edited by Margaret Mullett and Susan Ashbrook Harvey. Studies in Byzantine Cultural History. London: Routledge. In press.
"Resurrection, Emotion, and Embodiment in Egyptian Monastic Literature." In Unity of Body and Soul in Patristic and Byzantine Thought. Edited by Anna Usacheva, Jörg Ulrich, and Siam Bhayro, 144-169. Contexts of Ancient and Medieval Anthropology 1. Leiden/Paderborn: Brill/Ferdinand Schöningh, 2020.
"Emotions in Eden and After: Ancient Jewish and Christian Reflections on Genesis 2-4." Journal of the Bible and Its Reception 6 (2019): 97-133.