Research Travel Grants
Research Travel Grants
Research travel grants from the Humanities Research Center foster excellence in research and creative scholarship at Virginia Commonwealth University by providing funds to support direct research costs incurred by faculty. These costs include travel to archives and other research sites, lodging, meals and expenses related to collection of data such as photocopying and photography fees. (These awards are not to be used for conference travel, for the purchase of books or equipment, or for travel to use archival material that is available on the internet.)
Deadline: Rolling
Full-time tenured, tenure-eligible, and term faculty in the humanities and humanistic social sciences at VCU are eligible to apply for these research travel grants. Funding is prioritized for applicants who demonstrate previous and/or ongoing contributions to the intellectual life of the HRC. The proposals will be evaluated by the HRC grants sub-committee and director based on the project's merit, feasibility of research plan, and impact.
To apply for funding, please provide:
a current CV
1-2 paragraphs about the research undertaken, relevance to the applicant's current research and career trajectory, availability of other funds (such as start-up funds or other grants), and impact on the applicant's career if not funded
a budget which will highlight the requested amount
a short paragraph describing your contributions to the intellectual life of the HRC in the last two years (panels,

grant

teams, research groups, webinars, Research Fridays, Meet VCU's Authors presentations, mentoring, community engagement work, etc.)
Please submit these documents to the HRC director at cstanciu@vcu.edu.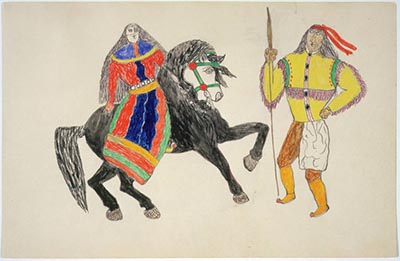 Frederick Gokliz ink and watercolor drawings of Apache Indians, circa 1894-1899 (Credit: Newberry Library)
Past Recipients
2019-20 Recipients
2019-20 Recipients

| Name | Unit | Title |
| --- | --- | --- |
| Mariam Alkazemi | Robertson School of Media and Culture | Mobilizing Resistance: Revisiting the 6th of April Youth Movement's Facebook Organizing |
| Patricia Cummins | School of World Studies | Contemporary Social Justice Issues in French-Speaking Africa |
| Antonio Espinoza | History | Civilizers of the People: The Teachers of Lima, 1860-c.1930 |
| Adam Ewing | African American Studies | Promised Land: The Rise and Fall of the Global Pan-African Movement |
| Mar Góngora | School of World Studies | Jewels in Cervantes´s works: Feminine Solidarity, Class Difference and Male Anxieties |
| Tracy Hamilton | Art History | The Ceremonial Landscape: Art, Gender, and Geography in Late Medieval Europe and the Mediterranean |
| Bernard Means | School of World Studies | America's Founding Monsters: How the Newly Established United States Used Fossils to Face an Existential Threat to Its Developing National Identity |
| Bernard Moitt | History | French Colonial Settlements in the Antilles, 1620-1750 |
| Terry Oggel | English | Mark Twain Designs His Literary Afterlife |
| Andrea Simonelli | Political Science | Saving Paradise? An Analysis of how Governance Affects Climate Resilience through Human Security in the Pacific |
2018-19 Recipients
2018-19 Recipients

| Name | Unit | Title |
| --- | --- | --- |
| Bernard Means | School of World Studies | Preventing a "Lobotomy of Memory": Preserving At-Risk Heritage at HNB Garhwal University Using Digital Technologies |
| Brandi Summers | African American Studies | Routes of Race, Resistance, and the Geographies of Belonging in Oakland, California |
| Hanna Pylväinen | English | The End of Drum-Time, A Novel: Field Research and Novel Writing at the Lásságámmi Foundation |
| John Kneebone | History | A Soldier of Virginia: The Making of and Reception of Robert A. Stiles's Four Years Under Marse Robert (1903) |
| Katie Logan | Focused Inquiry | Toward Affinity: Reading Memory, Longing, and Desire in Transnational Women's Writing |
| Meriah Crawford | Focused Inquiry | A Box of Secrets |
| Samaneh Oladi Ghadikolaei | School of World Studies | In Search of Divine Justice: Iranian Women's Sacred Activism |
| Mayda Topoushian | School of World Studies | Marginalized Minorities in the Middle East and North Africa |
2017-18 Recipients
2017-18 Recipients

| Name | Unit | Title |
| --- | --- | --- |
| Christine Cynn | Gender, Sexuality and Women's Studies | A Witness of My Time: Visual Art, AIDS, and the Archive |
| Michaux Dempster | Focused Inquiry | Eleanor of Aquitaine and the Fairy Melusine |
| Adam Ewing | African American Studies | Promised Land: The Rise and Fall of the Global Pan-African Movement |
| Richard Fine | English | Edward Kennedy's Surrender Scoop: The Associated Press Archives |
| John Froitzheim | Political Science | Achieving Institutional Responses to Environmental and Economic Constraints: Understanding the Origins of Developmental Institutions |
| Melis Hafez | History | Moral Ottomans: Moral Entrepreneurs as Culture Producers in Late Ottoman Society |
| Tracy Hamilton | Art History | The Ceremonial Landscape: Art, Gender, and Geography in Late Medieval Europe and the Mediterranean |
| Sonja Livingston | English | Our Lady of the Rust Belt: A Journey to Buffalo, Search for a Missing Statue, and Exploration into the Concept of Devotion |
| Rohan Kalyan | School of World Studies | Hindie Cinema and Changing Urban Life in Deli |
| Bernard Means | School of World Studies | Crowdsourcing Heritage: Documenting Hindu Temples and Temple Life |
| Kathryn Meier | History | General of the Lost Cause: Jubal A. Early, Historical Authority, and Confederate History |
| Gregory Smithers | History | Native Water: The Riverine World of the Cherokees and their Neighbors |
| Terry Oggel | English | Albert Bigelow Paine, Mark Twain's Biographer and Literary Executor: A Critical Bio-Bibliography |
| Cristina Stanciu | English | A Place of Horror, A Place of Refuge: Indigenous Survivance in the Boarding School Literature of Four Settler States |
2016-17 Recipients
2016-17 Recipients

| Name | Unit | Title |
| --- | --- | --- |
| Kathleen Chapman | Art History | Animal Worlds in German Modern Art and Empire |
| Gloria I-Ling Chien | School of World Studies | The Adaptation of Tibetan Lojong Teachings in Cognitively-Based Compassion Training |
| Antonio Espinoza | History | Apostles of Civilization and Mothers of Good Manners: The Male and Female Primary-School Teachers of Lima, 1821-c.1921 |
| Richard Fine | English | The Media and the Military in World War II: The New York Times Archives |
| Robert Godwin-Jones | School of World Studies | Grimm Tales Reserviced |
| Meredith Katz | Sociology | The Student Anti-Sweatshop Movement: Identity, Networks, and Action |
| Bernard K. Means | School of World Studies | Himalayan Heritage in Danger: Can Digital Humanities Save the Cultural Heritage of Uttarakhand, India? |
| William W. Newmann | Political Science | Presidential Policy Making in Foreign Policy: Managing China Policy |
| Terry Oggel | English | Paine's Twain: Albert Bigelow Paine and Mark Twain's Legacy |
| Gregory Smithers | History | Native Waters: An Indigenous Environmental History |
| Oliver C. Speck | School of World Studies | Deadly Devices: The Point-of-view-shot in Games, Sports and Combat |
| Rivka Swenson | English | Seeing Women |
| Mayda Topoushian | School of World Studies | Marginalized Minorities in the Middle East and North Africa |
| Faedah M. Totah | Political Science | Palestinians in the Old City of Damascus |
| David Weinfeld | School of World Studies | Stella Counselbaum: A Portrait of Civil Rights Activism Through Friendship |
2015-16 Recipients
2015-16 Recipients

| Name | Unit | Title |
| --- | --- | --- |
| Kathleen Chapman | Art History | Animal Worlds in German Art and Empire |
| Christine Cynn | Gender, Sexuality and Women's Studies | The ABCs of HIV Prevention Media in Côte d'Ivoire |
| Joshua Eckhardt | English | Religion Around John Donne |
| Carolyn Eastman | History | The Strange Genius of Dr. O: Oratory and Transatlantic Celebrity in Early America |
| Adam Ewing | African American Studies | Promised Land: A People's History of the Global Pan-African Movement |
| Richard Fine | English | Edward Kennedy's Long Road to Reims: The Media and the Military in World War II |
| Catherine Ingrassia | English | British Women Writers and the Poetics of Failure in the Long Eighteenth Century / The MS Book of Constantia Grierson |
| George Munro | History | No Town Like It: A History of Kirovsk |
| Katherine Nash | English | Typographical Feminism: Politics and Materiality in Suffragist Narratives, 1910-1920 |
| Terry Oggel | English | Paine's Twain: Albert Bigelow Paine and the Making of Mark Twain's Reputation |
| Oliver C. Speck | School of World Studies | Deadly Devices: The Point-of-view-shot in Games, Sports and Combat |
| Cristina Stanciu | English | 'To America On Foot': Rethinking Americanization and Immigrant Narratives in the Twenty-First Century |
2014-15 Recipients
2014-15 Recipients

| Name | Unit | Title |
| --- | --- | --- |
| Adam Ewing | African American Studies | Lies of Liberation: Rumor, Identity and Politics in the African Diaspora |
| Carolyn Eastman | History | The strange Genius of Mr. O: Oratory and Transatlantic Fame in Early America |
| Catherine Ingrassia | English | British Women Writers and the Poetics of Failure in the Long Eighteenth Century |
| Claire Bourne | English | 'Set Forth as It Hath Been Played': Printing the Performance in Early Modern England |
| Dannelle Gutarra | African American Studies | Race, Colonialism and Modernity in the Age of the Haitian Revolution |
| Emilie Raymond | History | Paul and Phyllis Galanti: A POW Love Story |
| Gregory Smithers | History | Cherokee Waters: A Native American Environmental History |
| Matthew Pawlowicz | School of World Studies | Commoner and Elite in Swahili Society: Re-Examination of Spatial and Ceramic Data from Gede, Kenya |
| Melis Hafez | History | The Lazy, the Idle, the Luxurious: The Culture of Productivity in Late Ottoman Society, 1830-1922 |
| Peter Stone | History | Red was the New Black: Exploring the Eastern Origins of a Roman Domestic Style |
| Richard Fine | English | The Media and the Military During World War II |
| Rivka Swenson | English | The Gaze, the West Indies, and Robinson Crusoe |
| Ryan Smith | History | The New Lightkeepers: The Rehabilitation of Historic Lighthouses in the Southeastern United States |
| Terry Oggel | English | Mark Twain: The Late Public Writings Clemens Really Wrote |
| Vivian Dzokoto | African American Studies | Exploring African Moneyscapes |
| Winnie Chan | English | Acquired Tastes: Palatable Alterity, Post-Imperial Gastronomy, and the Global Anglophone Novel |
2013-14 Recipients
2013-14 Recipients

| Name | Unit | Title |
| --- | --- | --- |
| Nicholas Frankel | English | Oscar Wilde in Exile: A Critical Biography |
| Debra Hansen | Art History (VCU Qatar) | Looking Westward: Views of the West from Capitol Hill |
| Les Harrison | English | Uncle Tom's Cabin: A Digital Critical Edition |
| Robert Godwin-Jones | School of World Studies | Digital Archive of Grimm Fairy Tales |
| Peter Kirkpatrick | School of World Studies | Citizen Camera: The Poetics of Rene Vautier's Socially Engaged Film-Making |
| David Latane | English | Scandal, Celebrity, and the Creation of the London Tabloid Press, 1820-1840 |
| Bernard Means | School of World Studies | Why the New Deal's "Forgotten" Men Excavated Pennsylvania's Buried Heritage and What They Discovered |
| Katherine Nash | English | Typographical Feminism: Ideology and Page Design in the Suffrage Era |
| Cristina Stanciu | English | The Makings and Unmakings of Americans: Indians and Immigrants in American Literature and Culture, 1880-1924 |
| Rivka Swenson | English | "So Yielding the Warm Temper of Your Mind": Montagu and the Poet as Woman of Reason |