Events
Teaching the History of the Book
October 23, 2023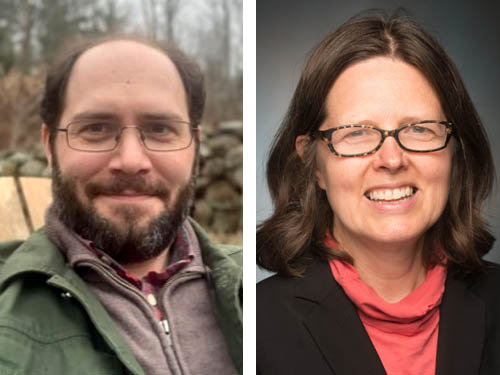 Meet VCU's Authors: Matteo Pangallo, PhD and Emily Todd, PhD
Start time: 12:00 p.m.
End time: 1:00 p.m
Location: Virtual
Teaching the History of the Book (University of Massachusetts Press) is the first collection dedicated to book history pedagogy. With contributions from a diverse range of teachers, scholars, and practitioners in literature, language studies, history, book arts, library science, and archives, the collection presents a variety of methods for teaching book history both as its own subject and as an approach to other subjects. Each of the 39 chapters describes lessons, courses, and programs centered on the latest and best ways of teaching undergraduate and graduate students both about and with book history.
Beginning with chapters that apply particular pedagogical and critical theories to the book history classroom, the book then covers effective ways to organize courses devoted to book history, classroom activities that draw upon book history in other courses, and an overview of selected print and digital tools for book history classes. Contributors draw on their own experiences in the classroom to bring to life some of the rich possibilities for teaching book history in the twenty-first century.
This roundtable features the volume's editors (Matteo Pangallo, VCU, and Emily B. Todd, Eastern Connecticut State University) and seven of its contributors who will discuss their chapters and their work as teachers of book history:
Kate Ozment (California State Polytechnic University, Pomona), "Teaching a Feminist Book History"

Ryan Cordell (University of Illinois, Urbana-Champaign), "Programmable Type: The Craft of Printing, the Craft of Code"

Lisa Maruca (Wayne State University), "Mediating the Student Body: Labor, Literacy, and Experiential Learning in the Book History Classroom"

Joshua Eckhardt (Virginia Commonwealth University), "'Brit. Lit. I' from Only One Library"

Amy Gore (North Dakota State University), "Teaching Indigenous and Multiethnic Literature through Book History"

Sarah Wadsworth (Marquette University), "Teaching Children's Literature through the History of the Book"

Jonathan Senchyne (University of Wisconsin-Madison), "Teaching Black Book History: Beginning Outside the Book"

Following the roundtable, there will be an opportunity for audience members to ask questions of the panelists.
About the Speakers
Matteo Pangallo, PhD is an associate professor of English at Virginia Commonwealth University. His monograph, Playwriting Playgoers in Shakespeare's Theater (University of Pennsylvania Press, 2017), considers plays by early modern playgoers as a form of fan fiction. He has published in journals such as Medieval and Renaissance Drama in England, Early Theatre, English Literary Renaissance, and Review of English Studies, and in the collections Early British Drama in Manuscript (2019), A New Companion to Renaissance Drama (2017), and The Oxford Handbook of Shakespeare (2012). He is coeditor of Shakespeare's Audiences (2021) and None a Stranger There: England in/and Europe on the Early Modern Stage (forthcoming, 2024), and is completing his second monograph, Strange Company: Foreign Performers in Medieval and Early Modern England.

Emily B. Todd, PhD is Dean of the School of Arts and Sciences at Eastern Connecticut State University. Before her appointment at Eastern, she was at Westfield State University from 1999 to June 2022, where she was professor of English, long-serving department chair, and dean of the College of Arts, Humanities, and Social Sciences. Early in her career she co-founded Westfield State's Faculty Center for Teaching and was the Faculty Center's first coordinator. With Matteo Pangallo, she is coeditor of Teaching the History of the Book (University of Massachusetts, 2023) and, with Denise Kohn and Sarah Meer, she is also coeditor of Transatlantic Stowe: Harriet Beecher Stowe and European Culture (Iowa UP, 2007). Her research is on nineteenth-century transatlantic book history, and she has published in Papers of the Bibliographic Society of America, Book History, American Literary History, among other academic journals. She earned her Ph.D. in English from the University of Minnesota, her M.Phil. in Scottish Literature from St. Andrews University, and her B.A. in American Studies from Amherst College.
Kate Ozment, PhD is an assistant professor of English at California State Polytechnic University, Pomona where she teaches Anglophone early modern literature with an emphasis on women writers, book history, and digital humanities. She has published journal articles on feminist bibliography and book history, is co-editor of the Women in Book History Bibliography, and contributes to the Women's Print History Project. Her forthcoming work focuses on women book collectors' contributions to rare book scholarship and how British print relies on and recodifies difference through marketing materials.
Ryan Cordell is an associate professor in the School of Information Sciences and Department of English at the University of Illinois, Urbana-Champaign. Previously he was an associate professor of English and a core founding faculty member in the NULab for Texts, Maps, and Networks at Northeastern University. Cordell studies circulation and reprinting in nineteenth- century American newspapers through the Viral Texts project, and his interests extend to the influence of computation and digitization on contemporary reading, writing, and research. Cordell is also a Senior Fellow in the Andrew W. Mellon Society of Critical Bibliography at the Rare Book School.
Lisa Maruca, PhD is an associate professor of English at Wayne State University. The author of The Work of Print: Authorship and the English Text Trades, 1660–1760, she also publishes on British print culture and pedagogy, past and present. Her current monograph project, tentatively titled Writing Readers: Educational Technologies and the Novel Student Body in Eighteenth-Century England, charts the ways the print trade fueled new conceptualizations of the student body in writing and reading pedagogies in eighteenth-century England. Joshua Eckhardt is a professor of English at VCU where he teaches book history in a range of early modern literature courses.
Amy Gore, PhD is an assistant professor of English at North Dakota State University, where she specializes in early and nineteenth-century American literature, book history and print culture, and Native American literature. She serves on the executive committee for the Society for the Study of the Multi-Ethnic Literature of the United States, and on the editorial board for Studies in American Indian Literatures. She has been inducted into the Andrew W. Mellon Society of Fellows in Critical Bibliography, an affiliate of the Rare Book School, and her articles appear in Studies in American Indian Literature; Pedagogy; and Western American Literature. Her book, titled Book Anatomy: Body Politics and Materiality in Indigenous Book History, is forthcoming with the University of Massachusetts Press in October 2023.
Sarah Wadsworth, PhD is a Professor of English at Marquette University (Milwaukee, Wisconsin), where she also serves as Director of Marquette University Press. She is the author of In the Company of Books: Literature and Its "Classes" in Nineteenth-Century America (University of Massachusetts Press, 2006), co-author (with Wayne A. Wiegand) of Right Here I See My Own Books: The Woman's Building Library at the World's Columbian Exposition (University of Massachusetts Press, 2012), and co-editor (with Marija Dalbello) of Global Voices from the Women's Library at the World's Columbian Exposition (Palgrave Macmillan, forthcoming, 2023). A specialist in U.S. literature of the long nineteenth century, with additional research and teaching in book history and children's literature, she has been the recipient of a Houghton Mifflin Fellowship in Publishing History from Harvard University's Houghton Library, a Carnegie-Whitney Award (with Wayne A. Wiegand) from the American Library Association, and a Reese Fellowship for American Bibliography and the History of the Book in the Americas from the Bibliographical Society of America. A consulting editor and past coeditor of the journal Nineteenth Century Studies, she is currently at work on a study of Henry James and his friendships with women.
---