Speaker Series
Fractures of Memory: Indigenous Futurisms and Experiential Symbolism
October 19, 2022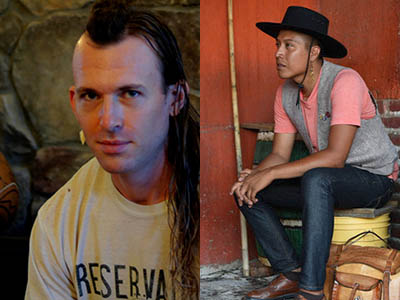 4:00 p.m. (hybrid event)
Commons Theater (University Student Commons)
Description
Join us for a film screening and discussion with artists Ethan Brown and Federico Cuatlacuatl. The films "Tsenacommacah" and "First Landings" will be shown.
"Tsenacommacah" - Tsenacommacah, is what the Powhatan called their territory of Tidewater Virginia. Roughly translated as, "densely inhabited land". An experiential recall takes form through the spiritual symbology of the region in this sensory short film. Ahone the Creator, comes from the rising sun. But there were other spirits as well—Okee, the trickster of Chaos. A dance unfolds between them…
"First Landings" - Ruminating on the shared colonial historical narratives of North American Indigenous communities in what are now Canada, the U.S., and Mexico-- First Landings reflects on the initial influx of European Colonization of the New World and its effects on First Nations Peoples through a nuanced approach to non-western cinema.
Speaker Bios
Ethan Brown is a Virginia artist working in multiple mediums including Gourd art, Oil Painting, Sculpture, and Filmmaking. He is a Pamunkey Tribal Citizen and resident of the Pamunkey Indian Reservation in King William, Virginia. A self taught artist— Ethan's work is inspired by Pamunkey history and culture, Virginia's flora and fauna, dreams, intuition, and spirituality. He has completed visual art commissions for the Big Ideas Company in London, England; the King William Historical Museum; Chesapeake Bay National Parks; and Reclaiming the Monument, among others. Ethan has had multiple pieces purchased by the Virginia Museum of Fine Arts for their permanent collection. As a filmmaker, Ethan has co-directed and edited the experimental short film Tsenacommacah (2020), as well as contributing additional photography to the EMMY Nominated documentary Connecting Currents- Pamunkey River: Lifeblood of our People (2020). Ethan's newest film, First Landings (2022) is currently being submitted to National and International film festivals.
Federico Cuatlacuatl is an artist born in San Francisco Coapan, Cholula, Puebla, Mexico. Federico's work is invested in disseminating topics of Nahua indigenous immigration, social art practice, and cultural sustainability. Building from his own experience growing up as an undocumented immigrant and previously holding DACA (Deferred Action for Childhood Arrivals), Federico's creative practice centers on the intersectionality of indigeneity and immigration under a pressing Anthropocene. At the core of his most recent research and artistic production is the intersection of transborder indigeneity, migrant indigenous diasporas, and Nahua futurisms. Federico's independent productions have been screened in various national and international film festivals as well as exhibitions in museums and galleries worldwide. As founder and director of the Rasquache Artist Residency in Puebla, Mexico, he actively stays involved in socially engaged works and binational endeavors.
This event is presented as part of the On Native Ground initiative and speaker series at the Humanities Research Center. Co-sponsored by the Office of Multicultural Student Affairs (OMSA).
---