Speaker Series
Contagion Aesthetics: Modernist Literature and the Influenza Pandemic
January 29, 2021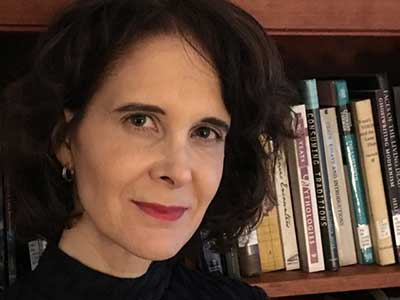 12:00 p.m. (virtual event)
Registration link for "Contagion Aesthetics"
Abstract
The influenza pandemic of 1918-1919 killed an astonishing 50-100 million people worldwide, and the United States lost more people in the pandemic than in all the wars of the 20th and 21st century, combined. Arriving just as the First World War was drawing to a close, the pandemic brought a non-human, invisible horror into every community, shifting enemies, threats and targets, and changing the calculus of risk and blame between soldiers and civilians. Until recently, the viral tragedy has been largely hidden, drowned out by its overwhelming scope, by the broader ways outbreaks of disease are often silenced, and by the way the human-inflicted violence consumed the literary and cultural attention. If we know what to look for, though—if we recover the sights and sounds of the pandemic, and its widespread devastation and impact—the outbreak emerges as a catastrophe as influential as World War One, a spectral trauma haunting both the literature and the culture. The talk offers a sensory and affective history of the pandemic, presents some of the reasons for its seeming disappearance, and then draws on two examples to investigate how literature speaks to moments of catastrophic contagion: W. B. Yeats' iconic poem "The Second Coming," and Katherine Anne Porter's novella "Pale Horse, Pale Rider." The works showcase the often surprising ways interwar Anglophone literature encoded the conditions of the influenza pandemic—and the ways this literature resonates through our current global crisis.
Speaker Bio
Elizabeth Outka, Ph.D., is professor of English at the University of Richmond. Her latest book, "Viral Modernism: The Influenza Pandemic and Interwar Literature" (Columbia University Press 2020), investigates how one of the deadliest plagues in history—the 1918-1919 influenza pandemic—silently reshaped the modernist era, infusing everything from T. S. Eliot's "The Waste Land," to the emergence of viral zombies, to the popularity of séances. She is the recipient of numerous awards and grants, including a fellowship from the National Endowment for the Humanities and the 2020 South Atlantic Modern Language Association Book Prize.

She has written on topics ranging from consumer culture, to postcolonial representations of trauma, to disability studies. Her first book, "Consuming Traditions: Modernity, Modernism, and the Commodified Authentic" (Oxford University Press 2009; 2012), explored the marketing of authenticity in turn-of-the-century British literature and culture. Her essays have appeared in Modernism/modernity, NOVEL, Contemporary Literature, The Paris Review Daily and many edited collections.

She teaches courses on modernism, twentieth- and twenty-first century Anglophone literature, the contemporary novel, the literatures of war, environmental literature, social change and modern drama, and women in literature. She received her B.A. from Yale University and her M.A. and Ph.D. from the University of Virginia.
This event is presented as part of the HRC Race, Ethnicity and Social Justice Speaker Series and is co-sponsored by the VCU Department of English.
---