Events
Meet VCU's Authors: Robert Volpicelli, Ph.D., in conversation with Nick Frankel, Ph.D.
October 11, 2021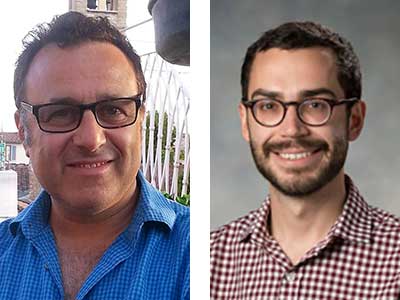 Oscar Wilde in America: Forging Identity on the Lecture Tour
4:00 p.m. (virtual event)
Abstract
With VCU English Professor Nicholas Frankel, Robert Volpicelli will discuss his work on Oscar Wilde's 1882 lecture tour of America from his new book, "Transatlantic Modernism and the U.S. Lecture Tour." The conversation will focus on how Wilde, touring alongside America's many traveling shows and popular amusements, learned how to manipulate his cultural and racial identity in order to speak to different regional U.S. audiences. It will also explore how Wilde's many identity transformations fit into the larger history of modernist authors traveling throughout America "on the circuit."
Speaker Bios
Robert Volpicelli is an associate professor of English at Randolph-Macon College. His book, "Transatlantic Modernism and the U.S. Lecture Tour" (Oxford UP, 2021), is the first comprehensive study of how international modernism moved along the routes of the lecture circuit. His articles on modernist literature and culture have appeared in journals such as NOVEL, Textual Practice and Twentieth-Century Literature, among others. With Kamran Javadizadeh, he also edited a recent special issue of College Literature on "Poetry Networks." He is currently working on a new project on bad eyesight in modern art, literature and philosophy.
Nicholas Frankel, professor of English at VCU, is one of the world's leading authorities on Oscar Wilde and the author or editor of many books about him, including most recently "The Invention of Oscar Wilde" (2021), "The Short Stories of Oscar Wilde: An Annotated Selection" (2020), "The Annotated Prison Writings of Oscar Wilde" (2018) and "Oscar Wilde: The Unrepentant Years" (2017).
---