Events
Meet VCU's Authors: Massa Lemu, Ph.D.
February 28, 2022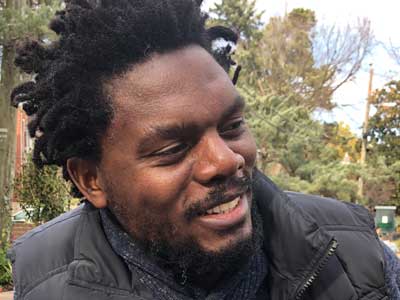 The Material and Expressive Aspects of Articulage
4:00 p.m. (virtual event)
Abstract
The term articulage, coined by Lemu, combines the term articulation (as deployed by Stuart Hall) with the term assemblage (as deployed by Deleuze and Guattari). Articulage highlights articulation as assembly – as a process of flexibly linking different elements together. Translated to the terrain of the visual arts, articulage focuses on the materials and objects that facilitate flexible and/or elastic aesthetic linkages in assemblages. In this talk, Massa Lemu will review the conceptual frames of assemblage and articulation to show how he is putting them to work together, as articulage. Then he will reflect on how the material and expressive aspects of the work of certain contemporary artists exemplify articulage, and how this inspires his new work. Finally, he will show how his work experiments with delinking from disempowering assemblages to connect with empowering linkages.
Speaker Bio
Massa Lemu is an assistant professor in the Department of Sculpture + Extended Media at Virginia Commonwealth University. Lemu is a visual artist and writer whose multi-disciplinary artistic practice takes the form of text, performance, sculpture, and multimedia installations that are concerned with the contradictions of migration, and the psychological effects of an immaterial, flexible, and mobile capitalism on the post-colonial subject. Lemu makes interventions into objects, texts, and spaces to re-enchant his life. Sometimes he uses the aesthetics of politics to comment on the politics of aesthetics. Lemu has exhibited at 1708 Gallery and Oakwood Arts in Richmond; and the Lawndale Arts Center at Rice University in Houston. He is a member of Ozhopé collective whose work has been shown at University of Malawi, Bodaboda Panafrican Video Art Festival, Collective Bureau in Cape Town, the Guggenheim Museum in New York City, Salts City in Basel, Switzerland, and at Galerie für Zeitgenössische Kunst in Leipzig. As a writer, Lemu's scholarly interests lie in what he calls a biopolitical collectivism in contemporary African art which he defines as a subject- centered and collectivist art practice situated in everyday life. His writing has been published by Field Journal of Socially Engaged Art, The Burlington Contemporary, Wits University Press, Third Text, Stedelijk Studies Journal, and others.
---