Events
Liner Notes for the Revolution: The Intellectual Life of Black Feminist Sound
September 23, 2021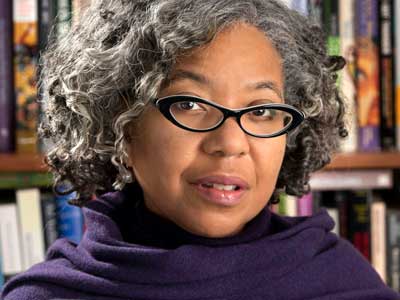 Daphne Brooks, Ph.D., in Conversation with madison moore
6:00 p.m. (virtual event)
Abstract
Award-winning Black feminist music critic Daphne A. Brooks's new book "Liner Notes for the Revolution: The Intellectual Life of Black Feminist Sound" explores more than a century of music archives to examine the critics,collectors, and listeners who have determined perceptions of Black women in the recording studio and on stage. How is it possible, Daphne asks, that iconic artists such as Aretha Franklin and Beyoncé exist simultaneously at the center and on the fringe of the culture industry?
Do we ever think of Black women musicians as intellectuals? Do we ever think of them as innovating and curating repertoires that actively engage with the complexities of African American history and American history more broadly? Is there such a thing as Black feminist music writing? Liner Notes for the Revolution seeks to answer these questions.
Speaker Bios
Daphne A. Brooks, Ph.D., William R. Kenan Jr. Professor of African American Studies and professor of theater studies, American studies, and women's, gender and sexuality studies at Yale University and the author of "Jeff Buckley's Grace and of Bodies in Dissent," winner of the Errol Hill Award for outstanding scholarship in African American performance studies. She has written liner notes to accompany the recordings of Aretha Franklin, Tammi Terrell and Prince, as well as stories for the New York Times, The Guardian, The Nation and Pitchfork.
madison moore, Ph.D., is an artist-scholar, DJ and assistant professor of Queer Studies in the Department of Gender, Sexuality and Women's Studies at Virginia Commonwealth University in Richmond, Virginia. madison is the author of "Fabulous: The Rise of the Beautiful Eccentric" (New Haven: Yale University Press, 2018), a cultural analysis of fabulousness. He has lectured at the Yale School of Drama, the Barbican, the Perth Festival, The School of Life Melbourne, Columbia College Chicago, Performance Space Sydney, American Realness and the Philadelphia Museum of Art. madison is currently writing a book about ephemeral traces, rave scenes and queer of color undergrounds.
This event is presented as part of the HRC Race, Ethnicity and Social Justice Speaker Series and is co-sponsored by the VCU Department of Gender, Sexuality and Women's Studies.
---