Events
Dismantling Institutional Whiteness: Emerging Forms of Leadership in Higher Education
January 23, 2023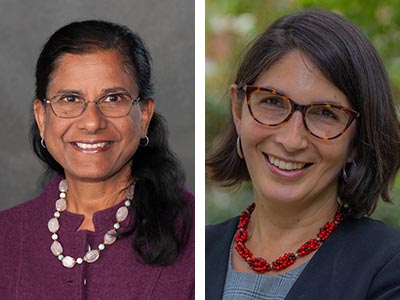 Meet VCU's Authors: Mangala Subramaniam, Ph.D.
12:00 p.m. (virtual event)
Abstract
We foreground the experiences of women of color in leadership roles in higher education. Top roles historically have gone to white men, and leadership has not reflected the range of identities and people who make up higher education. Why? And why does this problem continue to this day? Most importantly, what can be done to bring about meaningful change?
"Dismantling Institutional Whiteness" gathers a range of first-person narratives from women of color and examines the challenges they face not only at a systemic level, but also at a deeply personal level. Their experiences combined with research and statistics paint a sobering portrait of higher education's problems when it comes to diversity, equity, and inclusion. Interspersed throughout their stories are practical suggestions for how to address inequity in higher education, and to give a voice to people who have been silenced and excluded. Whether a trustee, university executive, or faculty member at any level, this is essential reading for those interested in diversifying higher education leadership to ensure decisions reflect the priorities of all.
As women of color leaders and scholars ourselves, we know that the experiences of women of color leaders are both misunderstood and valuable and wanted to use this opportunity to identify patterns across various types of institutions, including R1 universities and liberal arts colleges, that work against change. We also wanted to identify strategies for addressing these challenges.
About the Speakers
Mangala Subramaniam is the Senior Vice Provost for Faculty Affairs and Professor of Sociology at Virginia Commonwealth University (VCU). Her research is in the areas of gender (and intersections with race, ethnicity, class), social movements, and higher education. Her administrative experience includes developing and providing professional development programs for faculty; educational seminars such as the work-climate series; and workshops for faculty and other campus constituencies. Notable among her initiatives is the Coaching and Resource Network (CRN) creatively designed as a dyadic model in which full professors mentor, advocate, and sponsor assistant and associate professors, particularly faculty of color. Her work has been extensively featured in podcasts and webinars in national (US) higher ed sources such as Diverse Ed, Chronicle of Higher Education, Inside Higher Ed. Her recent webinar for NCFDD was on promotion from associate to full professor. She was also recently featured in an article about 'invisible labor' of faculty in Diverse Issues in Higher Ed. Her leadership work and contributions to faculty affairs was the cover story in an international edition of the Higher Ed Digest. Topics she has covered include best practices tools for documenting and assessing faculty COVID impact statements and recruitment and retention of faculty of color, among others. Her most recent co-edited collection is Dismantling Institutional Whiteness: Emerging Forms of Leadership in Higher Education. She is the editor of the book series, Navigating Careers in Higher Education (Purdue University Press). Previously, she was the Butler Chair and Director of the Susan Bulkeley Butler Center for Leadership Excellence and Professor of Sociology at Purdue University.

M. Cristina Alcalde is vice president of Institutional Diversity and Inclusion and professor of global and intercultural studies at Miami University. From 2007 to 2021, she was with the University of Kentucky, where she served as associate dean of inclusion and internationalization in the College of Arts and Sciences and as professor of gender and women's studies and the Marie Rich Endowed Professor. Her books include Peruvian Lives Across Borders: Power, Exclusion, and Home (2018); The Woman in the Violence: Gender, Poverty, and Resistance in Peru (2010); La mujer en la violencia (Spanish edition, 2014); and the co-edited volumes #MeToo and Beyond: Perspectives on a Global Movement (with Paula-Irene Villa, 2022) and Provocations: A Transnational Reader in the History of Feminist Thought (with Susan Bordo and Ellen Rosenman, 2015). She has also published widely in journals and edited collections and speaks nationally and internationally on her research areas of inclusion, gender violence, migration, exclusion, belonging, leadership, and race and racialization. She has written shorter pieces for Inside Higher Ed on the experiences of women in leadership positions (coauthored with Subramaniam, July 2020) and on the need to reenvision leadership in higher education to be more inclusive of women of color (December 2021), as well as for Ms. magazine on burnout among women of color (October 2021).
---