Co-Sponsored
Intersections: Black and Indigenous Sound in the Early Atlantic World
October 15, 2022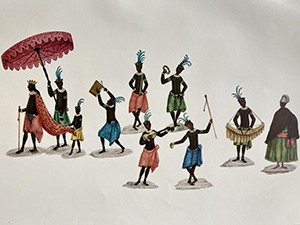 9:30 am – 3:30 pm (hybrid event)
Academic Learning Commons 2104 (Second Floor)
About the Event
Join us in exploring the intersections of Black and Indigenous sounds and music in the early Atlantic world. The event will feature short presentations from leading scholars, Q&A sessions, music, and a performance by the Charlottesville-based band Lua, known for their innovative blend of Latin-American and Appalachian tradition. The event is free and open to all.
Coffee, tea and boxed lunches will be served to those who RSVP.
This public event is part of a two-day symposium that focuses on sound in the early Atlantic world. In recent decades, thinkers in Black Studies and Indigenous Studies have transformed our understanding of this region's deeply multicultural past. But disciplinary, geographic, and linguistic divides can make it difficult for those working in diverse fields to bring research in these areas into dialogue. This symposium gathers scholars of music, history, literature and languages to converse about early Indigenous and Black performances in Latin America, the colonial United States, Atlantic Africa, Europe, and throughout the Atlantic basin.
This event is timed to coincide with Hispanic heritage month and Indigenous People's Day in order, to highlight intersections among Indigenous and Black performances in Latin-American and Anglo American colonial histories. In the spirit of collaboration, participants converse across disciplines in pursuit of a more inclusive understanding of the colonial past.
Collective, interdisciplinary thinking is an important "next step" in the burgeoning field of early Atlantic sound. By moving beyond traditional subjects, geographies, and disciplinary divides, scholars can work together to tackle common challenges and better attune our ears to harmonies and resonances throughout the vast region.
Symposium Organizers
Sarah Finley, Ph.D.
Sarah Finley is Associate Professor of Spanish. Training in literature, musicology and vocal performance supports her research on sound and music in the early modern Hispanic world. Finley is the author of Hearing Voices: Aurality and New Spanish Sound Culture in Sor Juana Inés de la Cruz (University of Nebraska Press, 2019). The book attends to poet and nun Sor Juana Inés de la Cruz's auditory inheritance by relating acoustical tropes in the author's writing to seventeenth-century ideas about music, sound transmission, hearing and more. In addition, her work has appeared in national and international academic journals. Complementary to scholarly writing, Finley also explores performance and other auditory modes as methods for re-sounding marginalized voices from the past.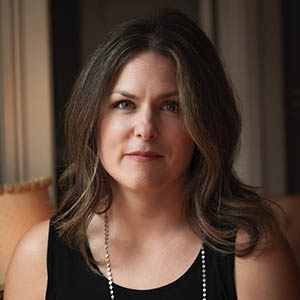 Mary Caton Lingold, Ph.D.
Dr. Mary Caton Lingold is Assistant Professor of English at Virginia Commonwealth University. She is an interdisciplinary scholar specializing in the literature, culture, and music of the early modern African Atlantic world, sound studies, and digital humanities. Her current book project, "Sound Legacy: Music and Slavery in an African Atlantic World," is forthcoming with UVA Press. Other publications include Digital Sound Studies (Duke 2018), as well as articles in Early Music, Studies in Eighteenth-Century Culture, and Early American Literature. She is co-creator of Musical Passage: A Voyage to 1688 Jamaica, and she recently guest-edited a special issue of Reviews in DH on the subject of sound.
Mary Caton received a PhD in English and a graduate certificate in African & African American Studies from Duke University in 2017. Prior to that, she earned an MA from the University of Colorado at Boulder and a BA from Trinity University in Texas. Growing up in the rural U.S. South shapes her interest in Atlantic slavery, white racism, and Black history and culture. Much of her research focuses on on the Caribbean, a region key to the development of traditions and ideas that spread across the Atlantic world in the early eras of slavery. Mary Caton is a lifelong musician, and she enjoys singing and playing multiple instruments.
Miguel Valerio, Ph.D.
Miguel Valerio is a scholar of the African diaspora in Latin America and the Iberian Peninsula. He teaches courses in Afro-colonial culture and contemporary Afro-Latin American literature and culture. His research has focused on black Catholic brotherhoods or confraternities and Afro-creole festive practices in colonial Latin America, especially Mexico and Brazil. His research has appeared in various academic journals, including Slavery and Abolition, Colonial Latin American Review, The Americas, and The Journal of Festive Studies. He is the author of Sovereign Joy: Afro-Mexican Kings and Queens, 1539-1640 (Cambridge University Press, 2022) and a co-editor of Indigenous and Black Confraternities in Colonial Latin America: Negotiating Status through Religious Practices (Amsterdam University Press, 2022).
Sarah Eyerly, Ph.D.
Sarah Eyerly, Associate Professor of Musicology, Curtis Mayes Orpheus Professor of Musicology, Director of the Early Music Program, and Coordinator of Musicology, holds the MA/PhD in musicology and criticism from the University of California, Davis, and the MM in historical performance practices from the Mannes College of Music. As a Fulbright Fellow to the Netherlands, she studied historical performance practices at the Royal Conservatory, The Hague. Prior to joining the faculty at FSU, she taught at UCLA, the University of Southern California, and Butler University, and was appointed as a visiting scholar with UCLA's Center for Seventeenth- and Eighteenth-Century Studies.
Her research interests are broad, and include sound studies, performance practice and applied musicology, music and religion, and the geo-humanities. Her book and sound mapping project, Moravian Soundscapes (Series: Music, Nature, Place; Indiana University Press, 2020), is a sonic history of Moravian mission communities during the period of the Seven Year's War and the American Revolution. She is also currently involved in an interdisciplinary research project on the history and transmission of Moravian hymns in the Mohican language. Other research projects include adaptations of Mozart's music by Inuit musicians in coastal Labrador, a biography and documentary film on the life of the eighteenth-century Mohican musician, Joshua, heritage tourism and indigenous representation at the Gnadenhütten massacre site in Ohio, and sound reconstruction of the Apalachee and Spanish musical culture of Mission San Luis in Tallahassee, FL.
This event is supported by the VCU Humanities Research Center, the Omohundro Institute of Early American History and Culture at William & Mary University, Christopher Newport University, Washington University of St. Louis, the Virginia Commission for the Arts and the National Endowment for the Arts.
---